Remembering PWF/FC Olympian Kamara James (1984-2014)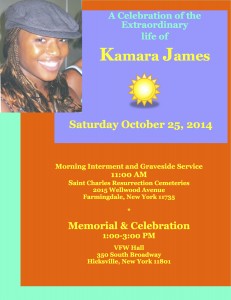 Click HERE for a PWF video tribute to Olympian epeeist Kamara James.
Click HERE for a selection of photos of Kamara from her friends and family.
Please see Concern Housing's website for more information or to make a donation in remembrance of Kamara.
From USA Fencing:
(Colorado Springs, Colo.) – USA Fencing lost a member of its Olympic family recently when Kamara James (Queens, N.Y.) passed away in Modesto, Calif.
At just 19-years-old, James represented Team USA as one of the youngest fencers at the 2004 Olympic Games in Athens as the only U.S. women's epee fencer to qualify for the Games.
Although she won bronze at the Junior World Championships the prior year and had fenced on the Senior National Team since she was 16, James was considered a long shot to qualify for the Olympic Team.
A native of Kingston, Jamaica, James moved to Queens, N.Y. at age 10. Despite the difficult transition of life in a new country, she excelled in middle school and earned a full scholarship to The Dwight School.
Outstanding grades and a near perfect SAT score allowed James to secure an academic scholarship to Princeton. She took a year off from college to train for the Games, but James lacked both the experience and financial resources of her competitors.
Undeterred, she put together a full business plan and solicited more than $50,000 in donations to support the travel and training she would need to follow her Olympic dream.
"Most people can't book their own plane tickets at that age and she created a budget for two full seasons. She made up her mind, knew she wanted to do this and that was it. She reached out to donors with a business plan and what her short term and long term goals were as well as what the return on investment would be. She was really grounded in terms of knowing how to take the steps she would need to reach any goal," said 2008 Olympic silver medalist Keeth Smart (Brooklyn, N.Y.) who competed with James in Athens and trained with her for more than a decade at the Peter Westbrook Foundation. "Bar none, Kamara was one of the smartest people I've ever come across. Sometimes the strongest and fastest win, but to have a great career in fencing, you have to be one of the smartest and she definitely was it."
When Olympic qualification came down to one final tournament, a World Cup in Katowice, Poland, James had a formidable task ahead of her. She would need a medal at one of the world's most difficult tournaments – a first for any U.S. women's epee fencer – to secure her position on the team.
James earned the bronze medal she needed to become an Olympian and became the fourth athlete from the Peter Westbrook Foundation to make the team – putting a full third of the Olympic Team from the same club.
She joined a lineup of PWF's top fencers on the 2004 team, including Keeth and Erinn Smart (Brooklyn, N.Y.) and Ivan Lee (Brooklyn, N.Y.)
And, although she was several years younger than her teammates, Smart noted that she was a standout talent from the day she walked in the door of PWF and had the work ethic to back it up.
"What always amazed me about Kamara was how diligent she was. I knew her from the day she started fencing and instantly everyone knew she was a precocious talent," Smart said. "She had the best performance markers of anyone I'd ever seen. At that point, we'd had athletes from PWF on the junior and cadet teams and I kind of had a good gauge of where one should be and she always worked harder than anyone in her age category. She lived 90 minutes away and was always the first one there and last one to leave."
After the Athens Games, James returned to Princeton where she earned a degree in religious studies. She went on to earn admission into Harvard to pursue a master's degree in comparative religion.
Although she retired from competitive fencing after Athens, James continued to follow and support her teammates and maintained a strong love of the sport.
"She made the decision to do one Olympics and then went back to Princeton, but she always loved fencing. It really changed the trajectory of her life and she appreciated everything she learned from the sport and all of the opportunities she had," Smart said.
James left an impact on everyone she met – including fellow fencers, coaches and administrators.
"Kamara James was one of the brightest, precocious, self-assured young people I ever met. From her time as a very young fencer at the Peter Westbrook Foundation to her years at Princeton as an accomplished Olympian she remained warm, caring and confident," said USA Fencing President Donald K. Anthony Jr. (Columbus, Ohio) "Kamara's untimely passing leaves our fencing community very saddened and her spirit, charm and wit will be dearly missed."