FC Olympic Day a Big Success!

Fencers Club Olympic Day Fencing Clinic
Saturday, June 20, 2015, 9AM-Noon
On Saturday, June 20, more than 60 young athletes attended our Fencers Club Olympic Day Fencing Clinic. Seven of our Olympians and Paralympians were on hand to share their experiences, lead exercises and fence with event participants. Thanks to the generosity of our diverse community of supporters, we surpassed our fundraising goal of $15,000, all of which will go directly to our athletes to support their pursuit to make the 2016 U.S. Olympic Team. Thank you to all Olympians, elite athletes, participants, sponsors and supporters for a fantastic Olympic Day event!
Goals: To broaden the base and raise the level of fencing, to inspire and motivate developing fencers to achieve at the highest level, and to support the highest achieving athletes, both Olympians and 2016 Olympic hopefuls, in their pursuit to make the US Olympic Team.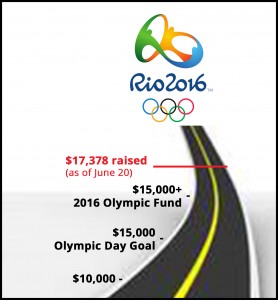 Donors (as of June 20):
Radical Fencing, LLC – $2500
Rex Chung, FC Chairman – $2500
Absolute Fencing Gear – $2000
Dr. Alan Hirschfeld and Barbara Gould – $2000
Elizabeth Cross – $2000
Annik Wolf – $1000
US Olympic Committee – $1000
The Peter Westbrook Foundation – $600
Tony Lee – $500
The Lawson Family – $200
Goldman Sachs – $200
Diane Reckling – $100
SIMBA Academy (Wayne Harris) – $100
The Leverett Family – $23
Event Participants – $2,655
Total Raised: $17,378
Supporters:
Absolute Fencing Gear
Bvlgari
Cirrus Fitness
Live Spot
Trader Joe's

Click HERE to see the program of the day's events.
Event run by and to benefit the 2015 US Senior National Team Members, Olympians and 2016 Olympic hopefuls:
Nzingha Prescod – Olympian
Nicole Ross – Olympian
Ben Bratton – Senior World Team Champion
Ibtihaj Muhammad – Senior World Team Champion
Yeisser Ramirez – Senior National Medalist
Olympians and Elite Athletes in Attendance (confirmed as of June 2015)
Keeth Smart – 3x Olympian, Team Silver Medalist (Beijing, 2008)
Erinn Smart – 2x Olympian, Team Silver Medalist (Beijing, 2008)
Emily Cross – Olympian, Team Silver Medalist (Beijing, 2008)
Akhi Spencer-El – Olympian, Coach
Iman Blow – Junior Women's Foil World Team
James Sands – Columbia University Men's Foil Team
Jonah Shainberg – Junior Men's Sabre Team
Event Format: 
9-10AM: Presentation by our Olympians, light refreshments.
10-11AM: Participants will warm-up, practice group footwork, tactical drills and strategic exercises led by our Olympians and elite athletes.
11-11:45AM: Fencers will be grouped by weapon (foil, epee and sabre) into teams to fence alongside our elite athletes and Olympians in a competition for the gold!
11:45-Noon: Awards and closing ceremony.
Age/Level/Weapon: The event is open to all ages, all levels and all weapons, though we recommend fencers have at least one year of fencing experience to make the most of this opportunity. Please inquire if you have questions.
Registration: Complete and return this registration form to the club via e-mail (info@fencersclub.org), fax (212-807-6944) or at the front desk. You can also register via AskFRED.net.
Event Donation and Perks:
Participation is FREE (suggested tax-deductible donation of $50-$150 to Fencers Club per person)
Autographed event T-shirt for each participant.
Gift bag with fencing-related items from the club and Absolute Fencing Gear, valued at over $40.
If you cannot attend but would like to donate to support our athletes, please click HERE to donate.
More Information: e-mail info@fencersclub.org
For more information about Olympic Day, please see the USOC's website: http://www.teamusa.org/About-the-USOC/In-the-Community/Olympic-Day.aspx