Dmitry Ronzhin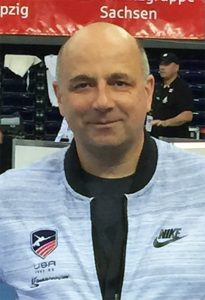 Master Coach – Sabre
himkier@gmail.com
347-863-7135
A native of Russia, Dmitry has been one of the world's top sabre coaches for more than 30 years in a professional career spanning multiple continents. He has coached both the Russian and Canadian Olympic Teams, in addition to coaching athletes at 18 Senior World Championships, 10 European Championships, 6 Pan-American Championships, and 5 Junior World Championships.
Under his tutelage, Dmitry's students have won 10 gold medals at Senior World Championships, 12 gold medals at European Championships and 5 gold medals at Pan-American Championships.
Since moving to New York in 2012, Dmitry has had similar success with his American students, including medals at Senior, Junior, Cadet and Youth North American Cups, Pan-American Championships, World Championships and World Cups. Below is a list of some of his students' accomplishments.
We are excited to welcome Dmitry to our world-class coaching roster. He is looking forward to working with our talented team of sabre coaches. Dmitry is particularly excited about working with youth fencers to elite fencers to accomplish their goals in our diverse Fencers Club community.
USA:
Geoffrey Loss (USA) – Member of the USA National Team, Two times Pan American Team Champion, Junior World Championships bronze medalist, Junior World Cups winner and medalist, Satellite World Cup winner
Benjamin Natanzon (USA) – Cadet World Championships 6 place, Cadet and Junior World Cups winner and medalist
Jonathan Fitzgerald (USA) – Junior Pan American Championship 7 place, Junior NACs medalist
Thomas Kolasa (USA) – Junior and Senior NACs medalist and finalist
Deniz Berkay (USA) – Satellite World Cup medalist
Teddy Weller (US Virgin Islands) – 4 times World Championships participant, Satellite World Cup winner

RUSSIA:
Elena Nechaeva (Russia) – 4 times World Champion, 6 times European Champion Natalia Makeeva (Russia) – 2 times World Champion, 3 times European Champion Svetlana Kormilitsyna (Russia) – 2 times World Champion, 3 times European Champion, Junior World Champion
Ekaterina Fedorkina (Russia) – World Champion, 4 times European Champion, Junior World Champion
Irina Bazhenova (Russia) – 2 times World Champion, 3 times European Champion Margarita Zhukova (Russia) – World Champion, Cadet World Champion, European Junior Champion
Alexey Ermolaev (Russia) – World Champion, Junior World Championships medalist
Alexander Miloserdov (Russia) – Two times Junior World Championships participant, Russian Champion
Dmitry Aibushev (Russia) – European Champion, Russian Champion
Victoria Kovaleva (Russia) – 2 times Junior World Cups winner, European Junior Championships silver and bronze medalist
CANADA:
Philippe Beaudry (Canada) – 2008 and 2012 Olympian, 2 times Pan American Games Champion, Pan American Championships silver and bronze medalist
Joseph Polossifakis (Canada) – Pan American Champion and medalist, Junior World Championships silver medalist, Pan American Games silver and bronze medalist
Vincent Couturier (Canada) – Pan American Champion and medalist, Junior World Championships silver medalist, Pan American Games silver medalist
Nicolas Mayer (Canada) – Pan American Championships silver and bronze medalist
Olga Ovtchinnikova (Canada) – 2008 Olympian. Pan American Championships silver and bronze medalist
Sandra Sassine (Canada) – 2008 and 2012 Olympian, Pan American Championships silver and bronze medalist